By Tim Erickson on Nov 25, 2021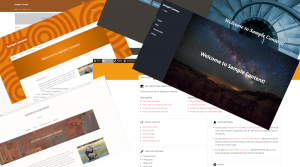 In deciding on a CMS, the availability of ready to use themes is an important factor for lots potential users that don't have the time or skills to create their own. One of my own concerns about Backdrop CMS when I first got involved in the community was the limited number of ready to use themes for folks just looking to build a personal website. However, over the last two years the situation has improved a great deal with a number of really nice new themes and more on the way.
Here is a quick run down of the top 10 themes, in terms of usage, for Backdrop CMS as of November of 2021.
But before we get started, let's clarify a few things.